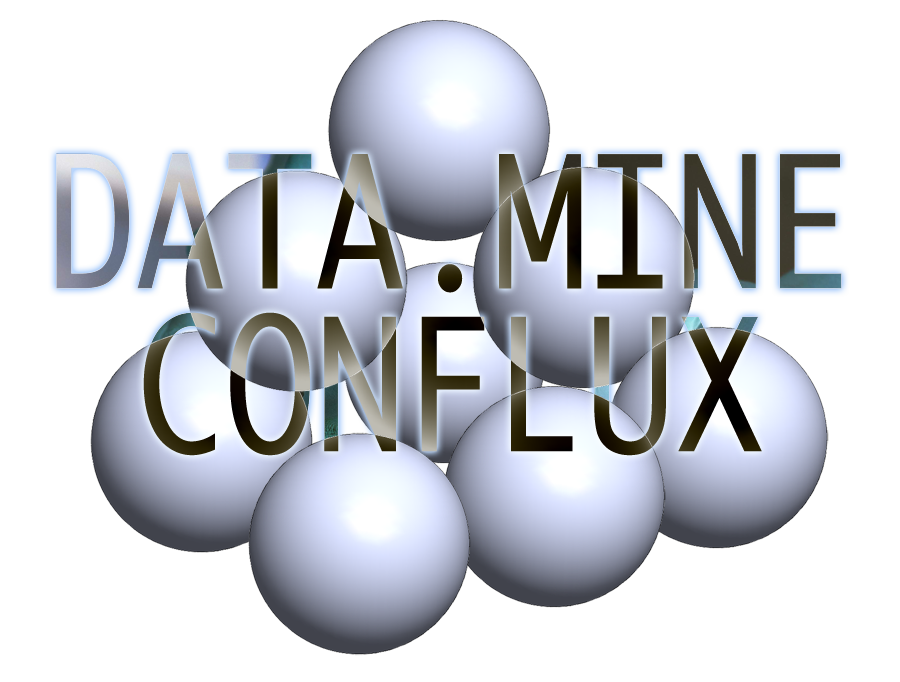 DATA.MINE CONFLUX – O FLUXO'S ONLINE EXHIBITION
The need for mastering structured data has dramatically increased in the
past few years. It can therefore be no surprise that one of the most studied
data mining structures in computer science and web-surfing patterns is
visual matter. This analysis has undoubtedly positioned the Artist as an
essential Dataist and possibly, digital art as a web core.

The exhibition 'Data.Mine Conflux' encouraged its participating artists to interpret
how data can be use to predict future cultural flashpoints and how they
can be showed online today. Actually there are no limitations when
information becomes the theoretical basis for data-driven art, but can
computer algorithms help an artist to determine an 'ideal' artwork for future
recognition? If so, what conditions can turn that kind of information into
something shapeable?
The interpretation of this analysis and the display of its resulting visual
matter is herein extended by the expression of artistic examination in the
first O Fluxo's online exhibition, "Data.Mine Conflux".
CONTRIBUTING ARTISTS
Andre Piguet ❍ Andrea Crespo ❍ Antoine Renard ❍ Body by Body
Brian Khek ❍ Darja Bajagić ❍ Jacob Broms Engblom ❍ Kareem Lotfy
Lauren Elder ft. Lenox-Lenox & Claudia Hart ❍ Mia Goyette
Pablo Jones-Soler ❍ Richard Nikl ❍ Thomas Payne
CATALOGUE
The "Data.Mine Conflux" Catalogue offers an extended insight of each
artwork presented at the online exhibition and it can be purchased via
print-on-demand on the link bellow.
It also features some additional content like research images, an extra
essay from Krystal South on how to 'Identify Yrself' in the www, an art
related astrological forecast by Lauren Reid and Perla Montelongo, a
proposal for moving Kiruna based on increasing mining activity by the
urban unplanning studio Scapeous, some visual material by
Kate Malykh, Etienne Garachon, Jacob Broms Engblom
and many more.
❍
O Fluxo & Neverland Space
March, 2014.
In closing, O Fluxo would like to thank all the participating artists and Yves Sinka, Joris
Noorder and Ruben Feurer from Neverland Space who helped build this online experience.
The exhibition catalogue it's printed via a print-on-demand service and as so,
it is impossible to assess its condition.
O Fluxo and Neverland Space are not responsible for any possible damages.

For enquires, please contact O Fluxo. The Data.Mine Conflux video flyer it's an edited
version from the original 'Blue-Matter Informercial' created by Lauren Elder in collaboration
with André Carlos Lenox and Evan Lenox. "Data.Mine Conflux" online exhibition will be
free to visit until 26 April 2014.