Sand grain tick-tock
I remember entering that space, a dream space that I subscribed to. Taking only my two legs with me I logged in with my nipples. Each nipple being a universe itself or a Neptune with its all own moons and orbits, every time I throw myself into that cosmos of burnt libraries, and always rapturously freeze and fall without falling. Times of questions are over, times of scanned mushrooms in the shape of your guts are over; in the era of oversharing we all know each other so well that one glance suffices, and we all know how I feel today. The wrinkle under my left eye confirms the presettings. Not that I fear of something, but I appreciate that we still have a choice. How I feel right now, like right now? Please press record, I am always so worried that I don't share enough. The shared-feelings icons that I use the most: chocolate cake with a warm and liquid filling, a fully blooded tampon in a glass of water or a spoon of tears. (Feelings are water based in my opinion). After spending days in the bush I slogged my way out with a machete. Still in "I'm going wild" outfit on my face, my last hack slashed a motion detector and the door opened. I entered a McDonald's. Please record twice that my first time at McDonald's was at age 15, I got french fries for free and had a tour through the fast-food kitchen. Back then it felt like the bush but now it's 22 years later and it is my, I need to admit, chosen reality. I enter a fully automated fast-food chain. I like people but I can also touch screens. Please press record, now the feeling-sharing is coming: I am in a wholly designed space and I know how to operate it. I can handle tables. I appreciate the smoothness of the fake leather on the chairs, I am the always missing puzzle in the landscape. That environment doesn't need me or miss me, but it lets me be. That is my feeling right now. I know where I am, and through belonging I thoroughly disappear. A waitress brings me the french fries. What the fuck. Click, the feeling is gone. But you have the recording, right? I only have one wrinkle and I cannot use it twice. Your choice today! Dream A, Dream B, Dream C. That apparent choice is just a narration I need to go through in order to wake up. But since sharing equals pretending and I love to share and, even more, to pretend (is that possible if they're the same?), let's choose from the un-selection of three sizes of predigested fries. I am at a car wash, a tunnel wash with the car on the conveyor slowly moving forward. It is a radioactive cleansing. I operate the machine, pushing the red button, and my father stands next to me. He is my nuclear decay, does this dream ever end? I am rolled in my own tongue and I unwrap myself, sticking it to the wall. There is no speech anymore, just words streaming down the wallpaper. My thoughts like puddles splash! and are gone and again I am in the kitchen, Marnie sits next to me and peels a zucchini. Her boyfriend comes home with a zucchini in his hand. He says, Darling, you don't have to do this, I was supposed to cook for us tonight. They stand in the kitchen and talk romantically, they cuddle and kiss. A guest enters. The space has changed into a huge room, an empty area, the two men standing at its ends, Marnie running between them. I am also here, standing next to Marnie's boyfriend, I see how the guys take off their t-shirts, Marnie still running around, I see one of their bare chests and thoughts about naked men are spring up around me, it feels like rain upside down. I hug you as much as I can, I push myself into you while you eat the raw zucchini. I wake up. The zucchini versus eggplant emoji misunderstanding always wakes me up. I close my eyes, I need to fall asleep to log out again. Since the only available image to download for free is a desert, I drown in sand as usual, I count every grain till they're in my throat and I stop to breathe one two three four, a cloud of glittery unfulfilled wishes like a speech balloon carries me away and I hang up there, my breasts floating, I recalled my safeword and I said it: Yes.
Text by Aleksandra Bielas
published as part of Martin Kohout: Hungry
Galeria Wschód, Warsaw
TLTRPreß, 2017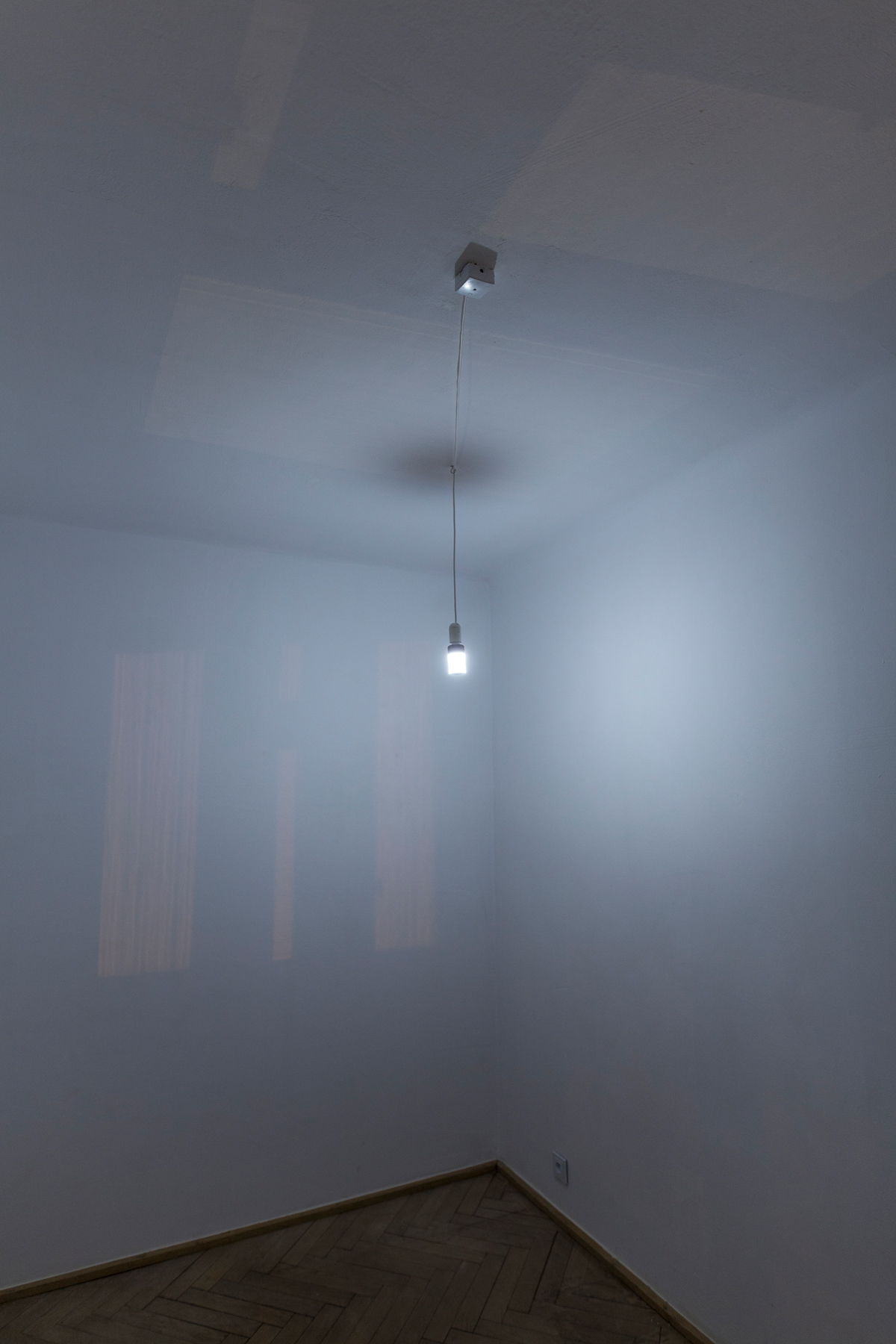 Dear Muell,
lightbulb, stereo audio
5m21s
2016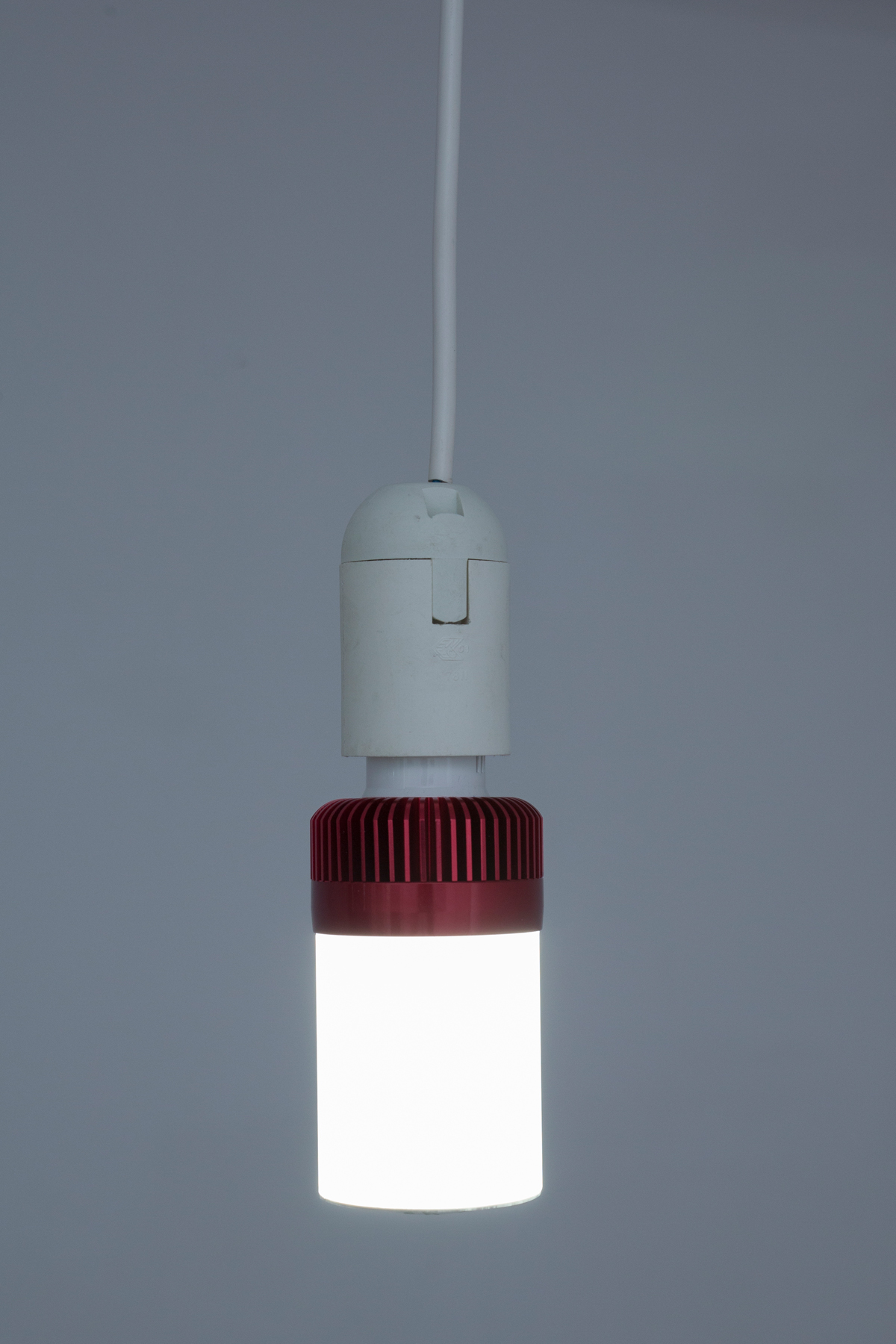 Dear Muell,
lightbulb, stereo audio
5m21s
2016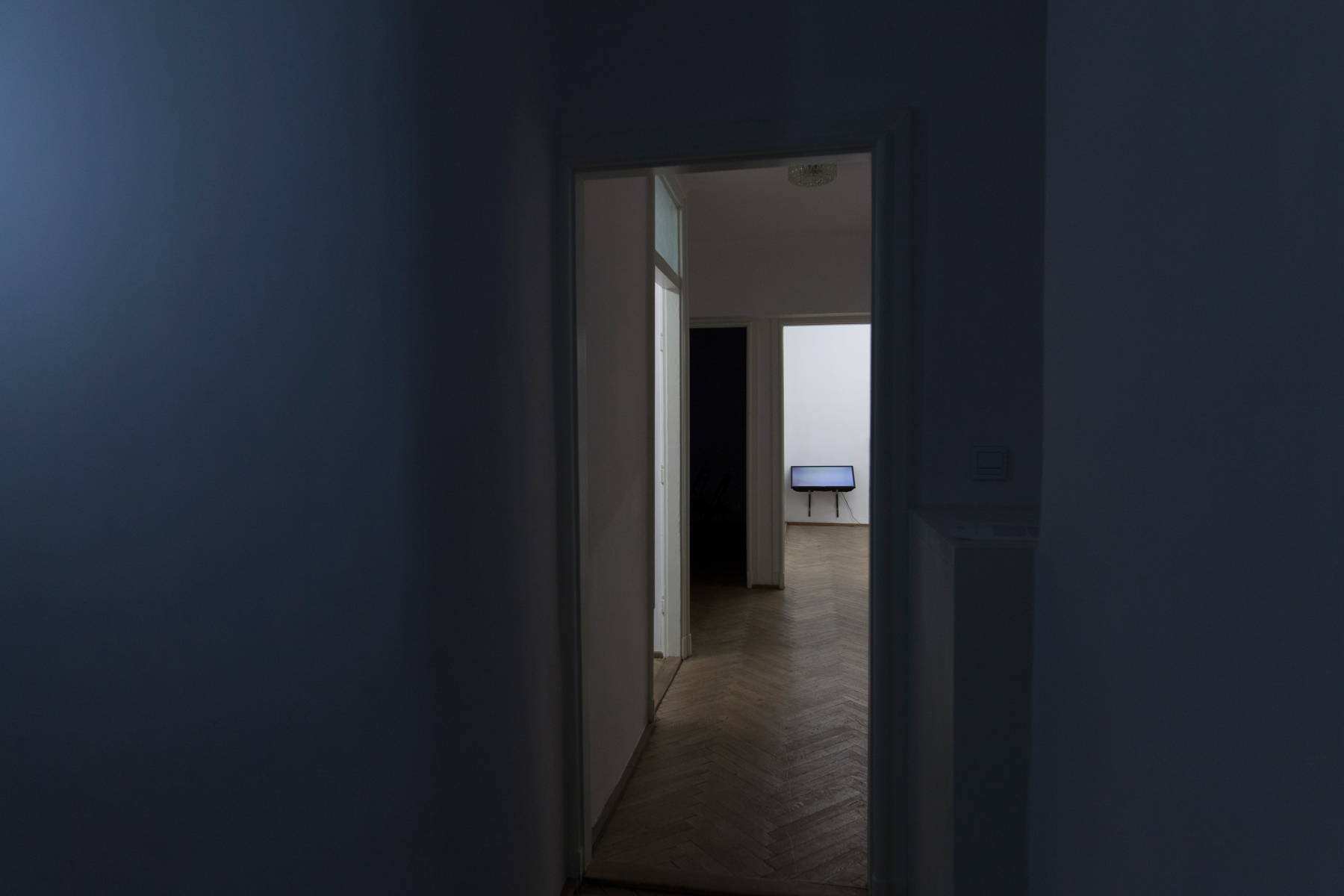 Exhibition view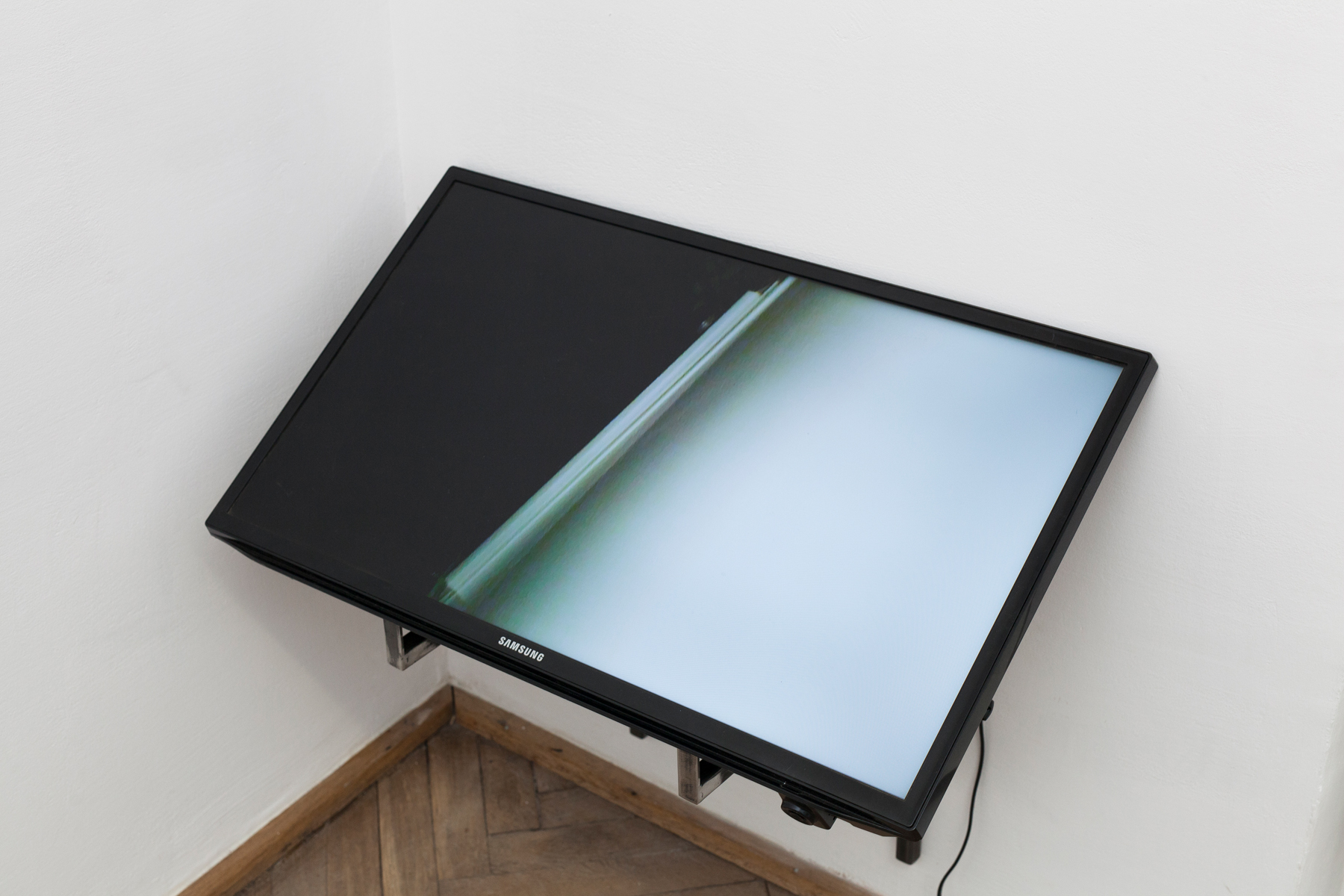 Free Mail,
HD video loop
8m11s
2014

Free Mail, (Excerpt)
HD video loop
8m11s
2014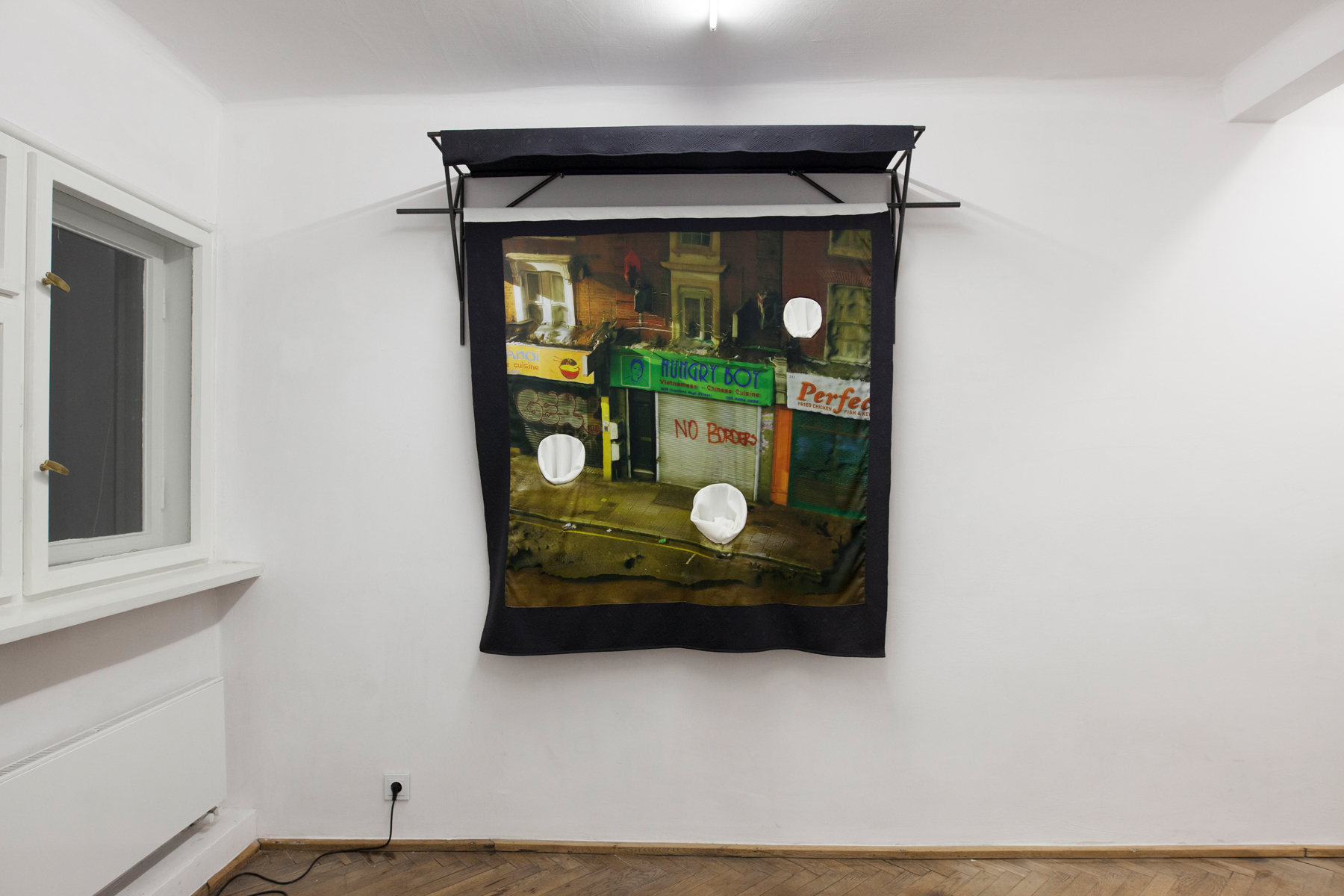 Deptford High Street Bedroom Sleeves
inkjet print on fabric, metal
184,5 x 173 x 35 cm
2017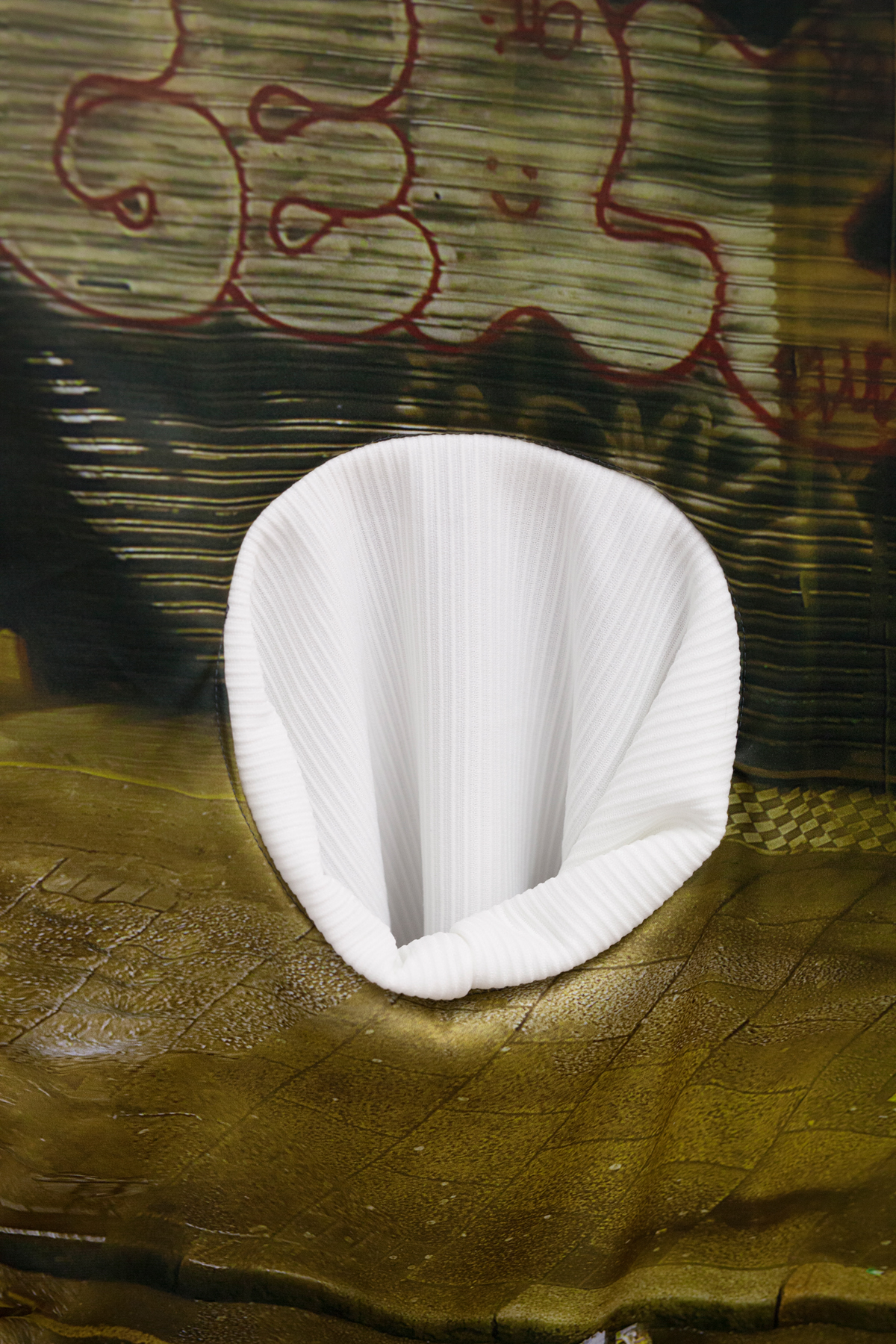 Deptford High Street Bedroom Sleeves (detail)
inkjet print on fabric, metal
184,5 x 173 x 35 cm
2017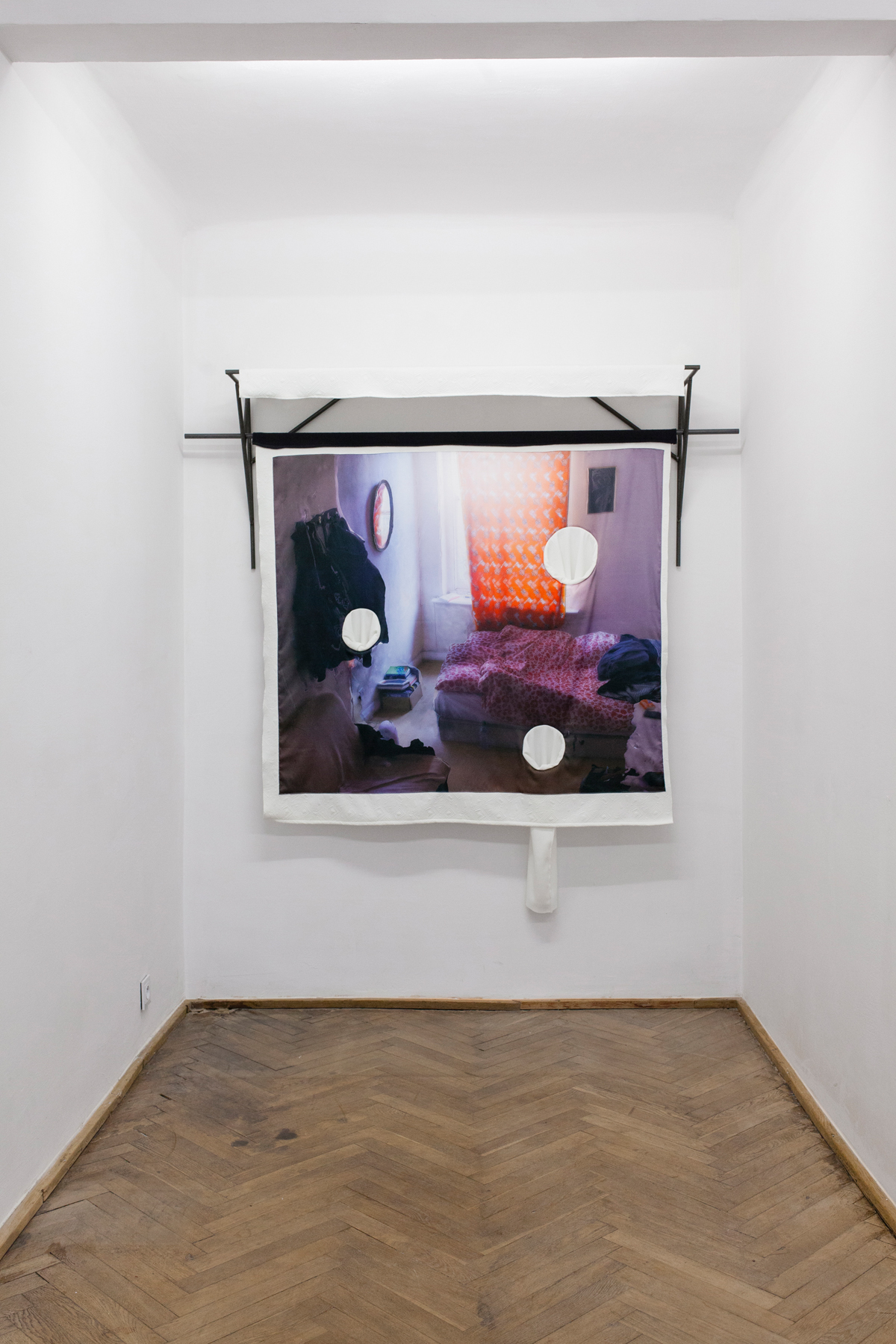 Hungry Boy Sleeves
inkjet print on fabric, metal
162 x 185,5 x 35 cm
2017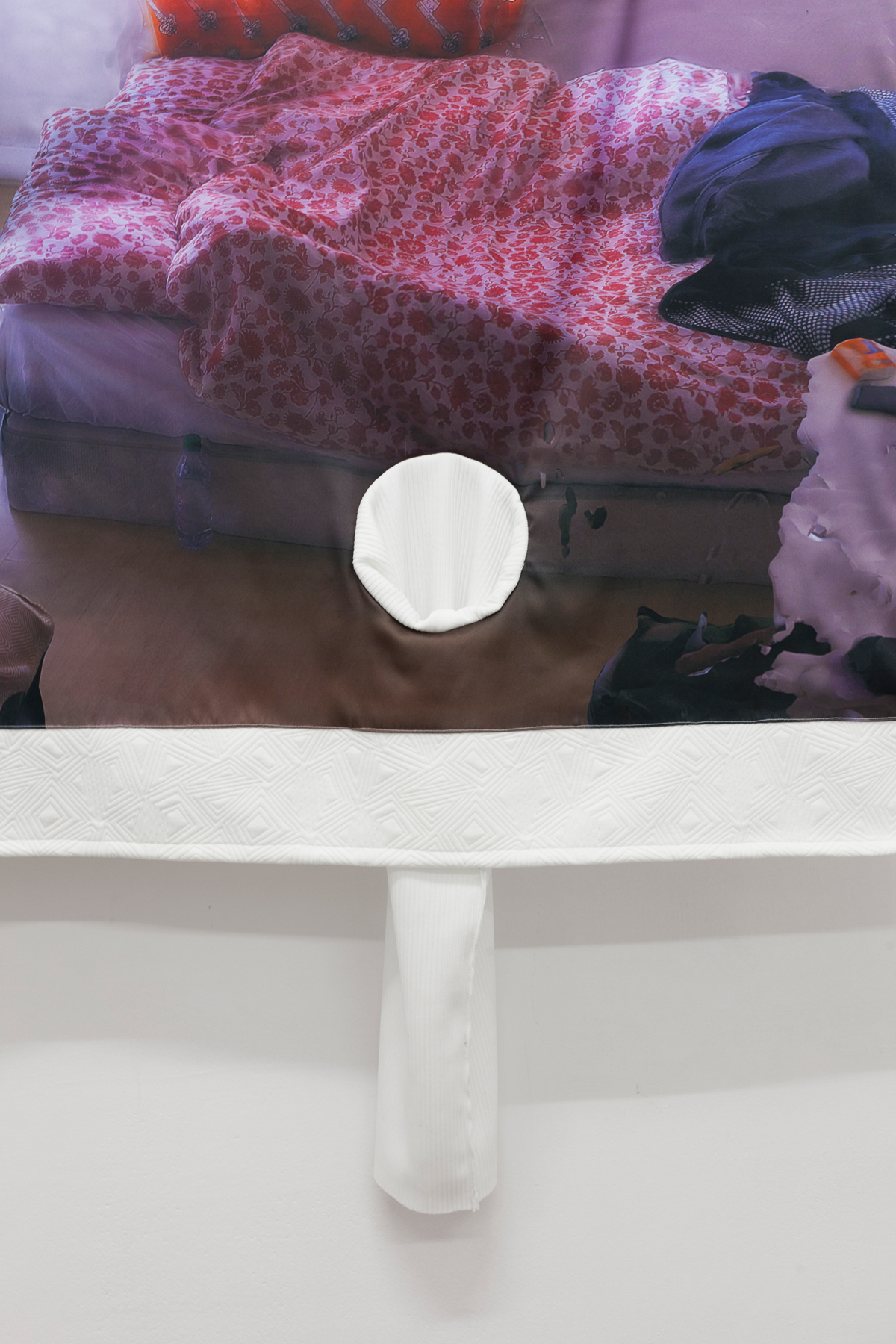 Hungry Boy Sleeves (detail)
inkjet print on fabric, metal
162 x 185,5 x 35 cm
2017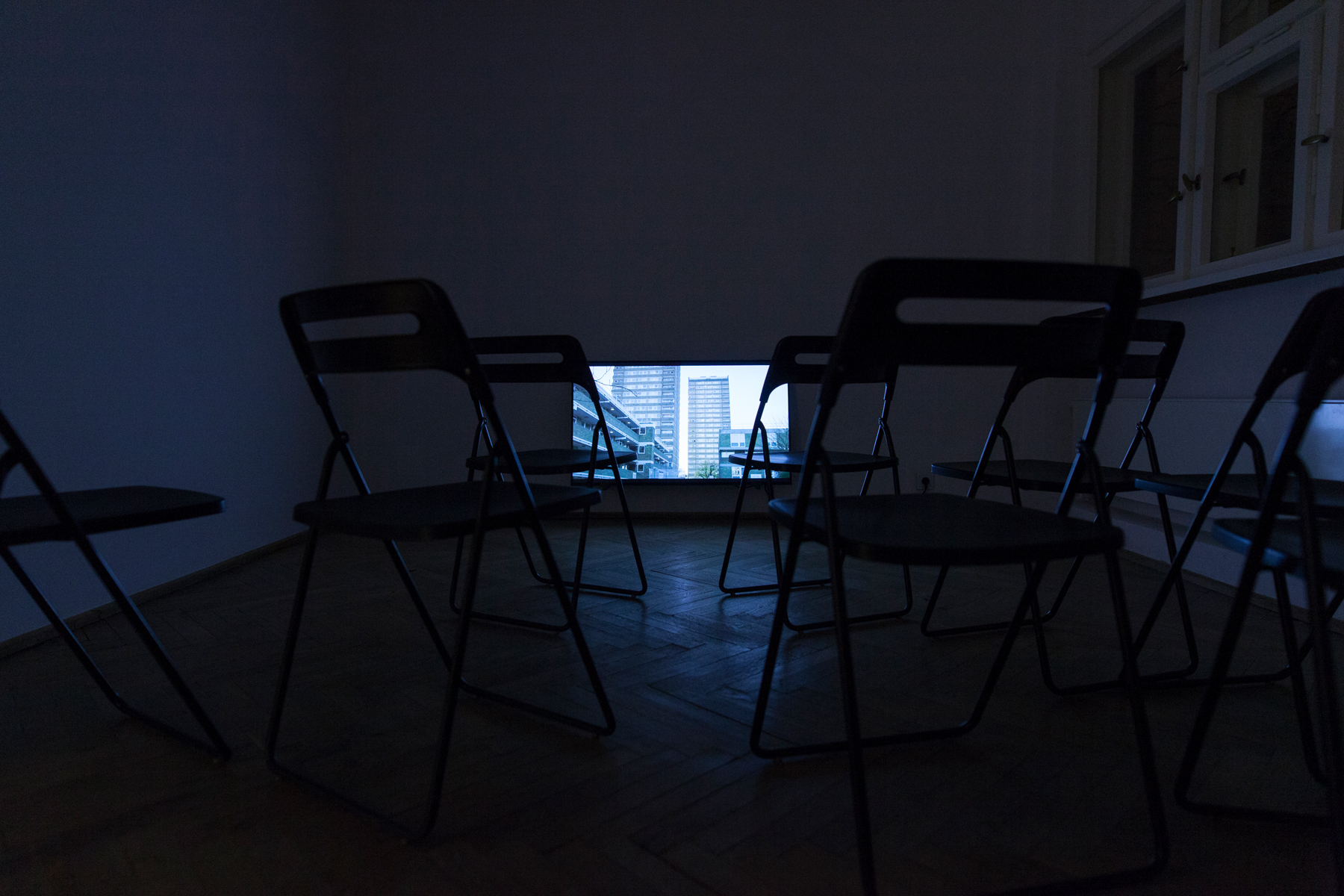 Slides
Full HD video
22m30s
2017

Slides (Trailer)
Full HD video
22m30s
2017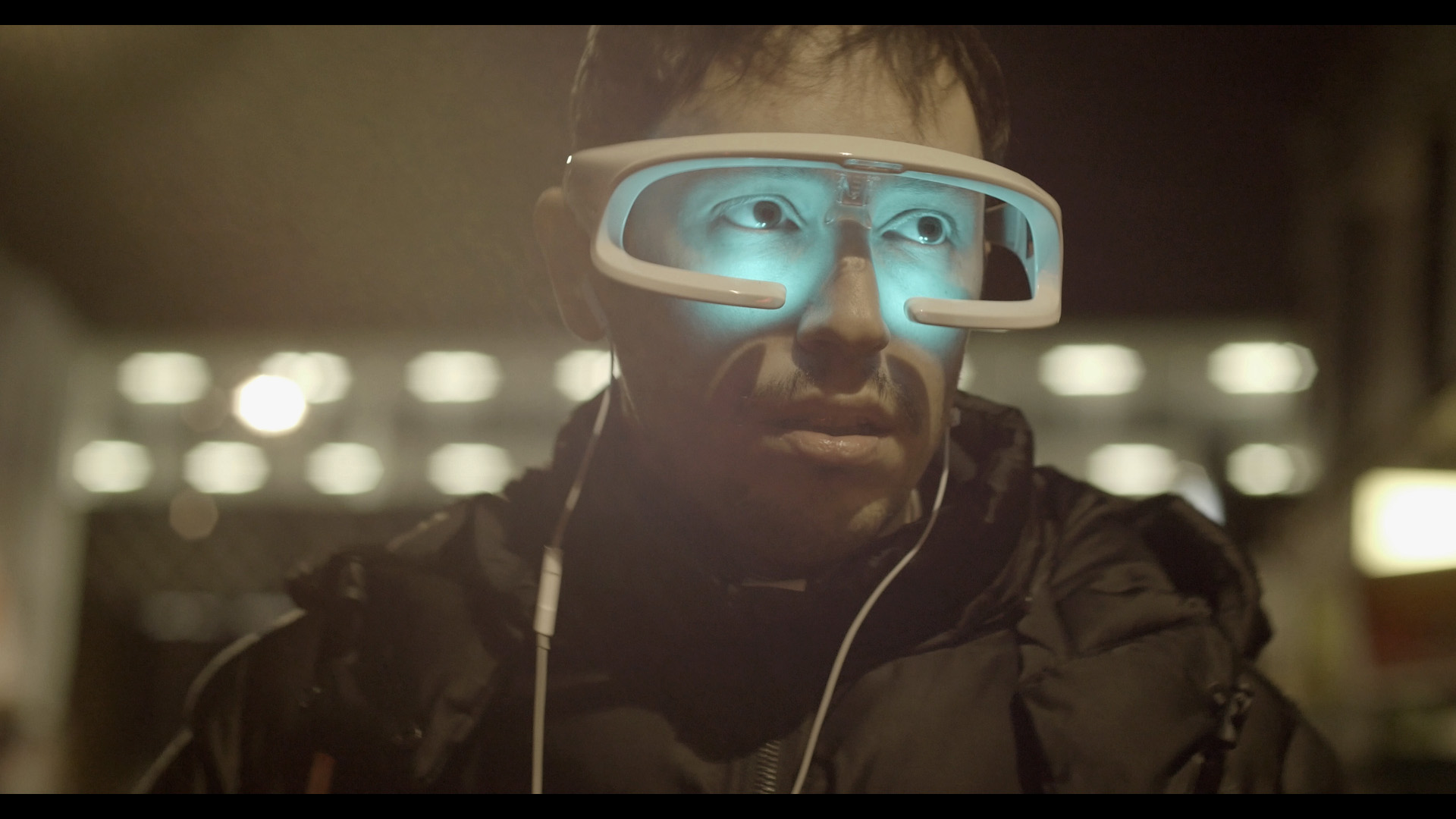 Slides (Film Still)
Full HD video
22m30s
2017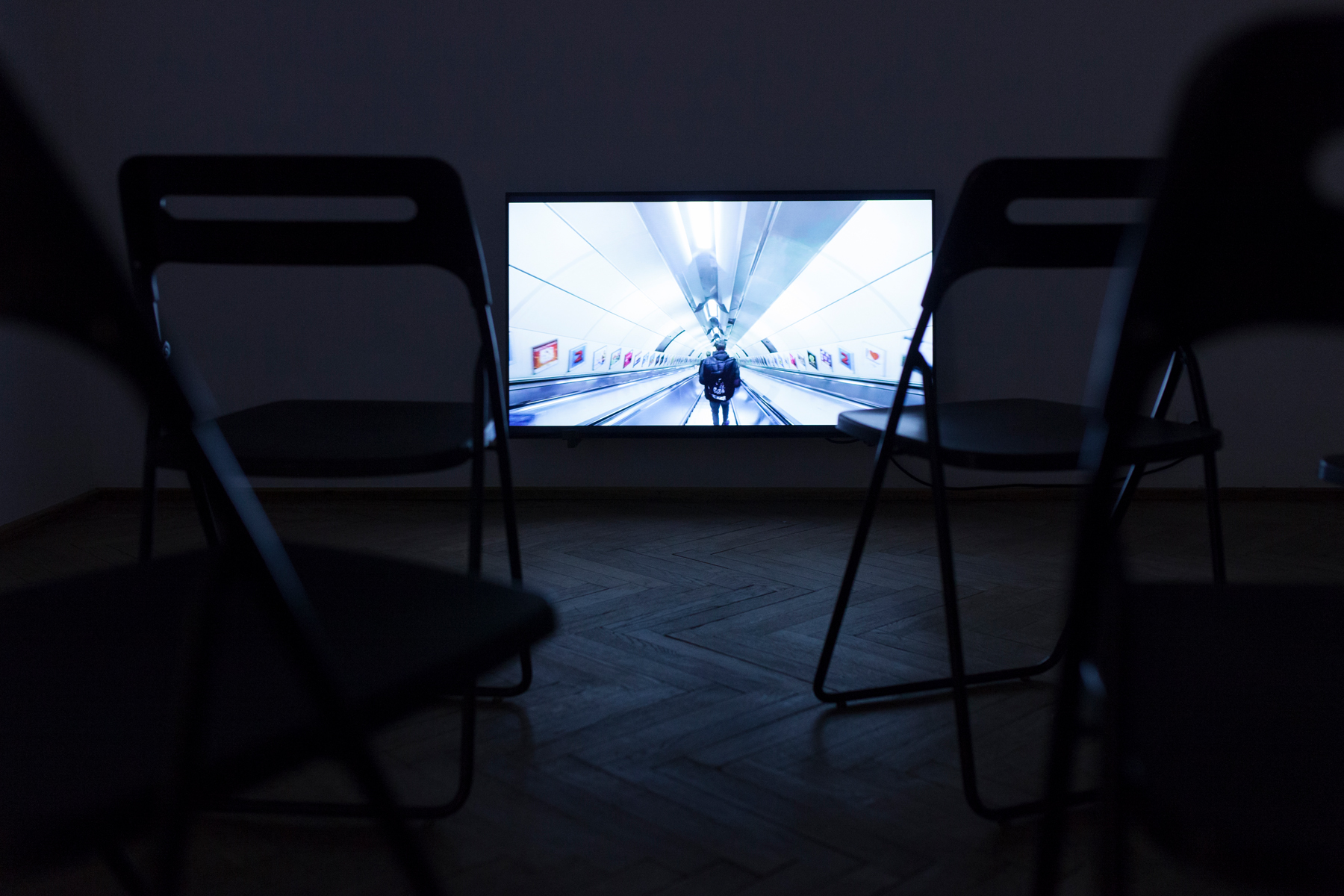 Slides
Full HD video
22m30s
2017
Exhibition view
~~~
Hungry
by Martin Kohout
at Wschód, Warsaw
Special guest: Aleksandra Bielas with
new text accompanying the exhibition
The show is cofinanced by the City Hall of Warsaw.