The Economy of Self,
The Economy of Image, The Economy of Self-Image
by Keith J. Varadi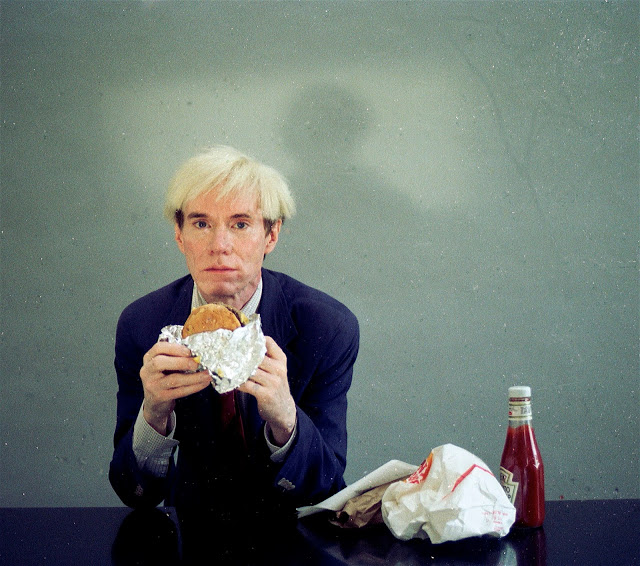 "Andy Warhol Eating A Hamburger," 66 Scenes from America, 1981
Since the beginning of this current decade, the Internet has undeniably impacted the lives of artists, dealers, curators, and collectors, in a myriad of ways that have already been covered, exhaustively. Objectives have become far more short-term; the long-term seems like a smoggy horizon that will only kill us by the time we reach it. Perhaps most crucial to this corrosive sea change are blogs and social media platforms.
Galleries have cycled through hundreds of process-based dude painters and females figuring out the figure in little more than five years. These things often look good on iPhones and iPads, which means they sell like the products reality stars similarly shill on their blogs and social media accounts. This has given so many participants mimetic labels and mixed signals. People pass around hokey descriptors of broad and often boring fads. Then, artists hungry for attention begin making art that will hopefully satisfy their cravings and at least temporarily nourish them, only to be starved once they are recycled and a new hyped aesthetic is the hot new dish. And sadly, when it comes down to it, if you're not exploiting painting or being exploited by it, you need to establish some other act or activity that will promise you sensational glory.
It's difficult to remember what any of our professional or artistic concerns might have been prior to this cultural shift. Even those who came up in an earlier scene or moment and cemented their existence and reputation long before this marker have gotten on board with the new of the now. Those of previous generations have ditched their Earthlink e-mail accounts for ones provided and serviced by Google, they've hopped on Facebook to promote their activities, they've shared documentation of exhibited works and those in progress on Instagram, and they have had neurotic moments about whether or not their show will get posted on Contemporary Art Daily, et al., or distributed via some other widely-viewed influencer's feed.
It appears that critical discourse has all but evaporated from the art world. When we're in our art school bubbles, we critique our peers and ourselves with high hopes and expectations that we'll all move forward, better off because of it. After a few years of getting pinballed in studio visits and seminars, many of us head into the real world with massive amounts of student loan debt and slim realistic options of how to recoup those costs. We end up taking jobs that are supposed to help us get by and desire conversations that will help us get better. But, more often than not, we are barely able to make either happen.
As this harsh reality has set in and these new trends have developed, writers have also been encouraged to pitch and stitch together vapid profiles and fashionable listicles; if you speak critically of someone's "brand," you run the risk of potentially not having the piece be published at all. The irony is that so few people actually read substantive articles these days. Folks mainly just skim and share items: "Check out my mention in Mousse" or "Please see my show reviewed in Frieze" or "Got another Artforum Critics' Pick!" And they do so, without even fully knowing what the particular content might be, no matter how prestigious the publication may be, including the aforementioned ones. Why?
Because in today's world, it doesn't appear to matter—it's just another line on the CV and/or a link to a website. We know people will skim and share just like we did. It's all about how shit looks online or in print: "Pics or it didn't happen." The best fluorescents have transcended poetry and poetics in the eyes of the public. In other words, if an exhibition is mounted and the documentation is not disseminated, for many trying to gain visibility in this oversaturated industry, it often feels as though it may as well have never even occurred.
This sentiment can be applied to all facets of culture and society. It's not as important for folks to actually drink tasty beverages as it is to take flash photos of them. It's not as important for folks to feel the water of the ocean smack against their bodies as it is to snap the waves crashing into the sand with a majestic filter. It's not as important for folks to play with and enjoy the company of their cats or dogs as it is to capture the perfect moment of them doing something cute or silly. Since the advent of photography, this has been at least partially true. But not until the rise of social media did we go full-on obsessive-compulsive. Before social media, we were trying to create memories. Now, we are trying to create "stories."
This is the way of the world, and I must accept it. We all must, to some degree. We must, in order to somehow move forward, which is to say: How do we make progress if we don't understand the basics of this current reality? Progress—what is progress? I would argue that noxious neoliberalism is not progress. The new privileged elite class is destroying the complexities of cultures on a global scale. Automobile companies sponsoring art prizes; galleries entering the hotel, restaurant, and general lifestyle and leisure businesses; Russian oligarchs and Elven archers strolling through the art fairs that dominate the climate and buying in bulk—is there an endgame here, and if so, what is it?
This brings me to the core set of questions I must ask myself and all other millennial artists: What is the point of making art anymore? Why do we do it? Why do we care? It can't be because of money—there are other, more applicable jobs that would guarantee us that. It can't be for fame—again, there are other, more applicable jobs that would guarantee us that. You can't really make that much money in the art world unless you already have a fair amount of financial support. And any fame you might achieve in the art world is miniscule, compared to people who are actually famous. Ask any one of your aunts or uncles if they know any Gagosian-represented artists by name. I can pretty much guarantee they don't.
So why do I think we do it? We make art, we exhibit art, we critique art because art is nearly impossible to justify and explain, just like the world at large. It is a cracked mirror, it is a filthy lens; it is an adaptable intellectual apparatus that somehow still allows us to see things more clearly if we are able to focus on what's in front of us. Art is filled with limitless possibilities; it allows us to be as free as we want with our reflections of what we witness and perceive. It may not always allow us to make change in an obvious, overt manner or on a large, expansive scale. However, we can, in fact, change the way others perceive the things that they witness. And that is a powerful thing. Over time, if we change enough people's perspectives, then real change can actually happen. There is the potential for genuine goodness in art and the art world. I believe this to be true, and I believe others do, as well.
To reiterate the obvious: The Internet has no doubt made it so that we are all far more interconnected than ever before. However, it has also created bizarre new boundaries and anemic etiquette for us to interpret and determine how to maneuver and navigate. People can finally, refreshingly, have the support they might deserve and may have never had without it. But people are also perhaps more phony than ever before. We care more about scenes and "being seen" than the legitimate impact of our words, actions, and work, and any veritable or charitable meaning associated with these things. We "like" and share pictures and posts as shallow gestures or because we believe that these actions will somehow be advantageous for our careers. And maybe this is true, in the short-term. But in the long-term? I'm not sure.
What would Lee Lozano have to say about Facebook? What would Allan Kaprow have to say about Instagram? What would Robert Smithson have to say about Contemporary Art Daily? I'm not sure.
Then again, I'm sure Andy Warhol would have loved all three. So where does that leave us?
Warhol once famously said, "In the future, everyone will be world-famous for 15 minutes." And he was right. These days, if you post enough content and are featured in enough vapid profiles and fashionable listicles, you certainly will be world-famous for 15 minutes. Warhol wholeheartedly embraced this sort of behavior and ideology, while simultaneously and slyly satirizing it. This is what made him arguably one of the greatest artists and cultural figures of at least the 20th Century.
The problem, though, is that in 2017, everyone from Lower East Side artists to the President of the United States is trying to shape themselves into becoming a media mogul. And they are doing so without taking the time or distance to have a moment of self-awareness, self-clarity, or self-deprecation like Warhol did. We should all ask ourselves what we are trying to accomplish here. If we continue to be so myopic and solipsistic, we will continue to allow for these 15-minute trends to dominate our feeds until we can no longer make sense of anything. The oversaturation of fake news and flimsy artistic agendas is creating chaos that we can only redirect if we start immediately.
The tech community loves to boast about disruption, and to be fair, the major figures in that field have done a disgustingly good job of disrupting. The misogynistic members of Silicon Valley have made life far more convenient for many of us in many ways, but they have also given so many of us a disproportionate feeling of self-importance. Between Bitcoins and Michael Bay films, juiceries and jogging pants, and the public shaming of a Rocket Man by a dotard, I propose we seek out new forms of disruption. And maybe the first step to doing so is by taking some time and distance to look inward in order to look outward.
Written by Keith J. Varadi for O Fluxo,
September 2017

OFluxo © 2017