Un/Certain Space:
A series of Interviews about
Online Art Residencies.
(Pt.2: PANE Project and Konstanet)
In the past few years, browsing the internet have become the dominant way to uncover some of the most promising cultural organizations and their non-gallery temporary exhibitions. In the second part of this ongoing series, Un/Certain Space Pt.2 presents PANE Project, a free-standing dialog between art pieces and public spaces by Lucia Leuci and Konstanet, a scaled-down white cube by Keiu Krikmann and Epp Õlekõrs.
~~~
PANE PROJECT
What was the initial inspiration to start PANE project?
I wanted to organize exhibitions in unusual spaces in Milan, places which are normally designated to different functions than the artistic one.
The project is also questioning the preconceived gallery's role, intended in the technical sense of private, commercial space, inserted into a system with very specific rules.
PANE is meant to create a bridge between the "real" world of everyday life and the artists themselves, without too many mediations. Another relevant aspect is the exchange, of personal relationships and networks: I think this is better deployed in a different place, then the gallery space.
KELLY BAR, Michele Gabriele "m-lnx2015″ (pink/pussy & blue/mood), 2015 – Mixed plastic materials, oil paint
On what principles do you choose the artists for each exhibition?
On my curiosity, simply: my interest gives birth to other interests. I choose the artists on the basis of the single project proposed for the exhibition space, there is no choice limit. There is no doubt, that for the nature of PANE project, there also has to be a perfect feeling with people who are taking part to the exhibitions. The most engaging process is managing to create relations among the invited artists, who have the possibility to confront themselves with the others, thus opening a dialogue.
A characteristic of PANE project is to ask for a visual contribution also to different professional figures such as curators, chefs, architects, to name a few.
And then I'm extremely interested in portfolio I receive. I think is wrong to institutionalize the exclusion a priori of someone, who proposes an original research. If it is a really convincing work, why not exhibiting it?
PANE Project does not have a fixed gallery space but, it is rather an online platform to display exhibitions that explore several context potentialities of non-art spaces. In your opinion, what is the importance of questioning the economic and institutional paradigms of the current art scene?
I never thought to contacting a sponsor, even if – of course – a lot of people involved (working in the art field and not) and the spaces owners support us.
Anyway the reality of art projects has an enormous potential of diffusion of visions and ideas, and akin brands should totally keep an eye on us.
KELLY BAR Rosa Ciano "Ready for the fog", 2015
You also published a zine on the occasion of 'Bubble Tea' group exhibition. Please tell us about your interest in independent publishing. Is it something you intend to keep doing – releasing new physical publications with your upcoming projects?
Of course, I'll create a fanzine for every episode, and some projects will be dedicated exclusively to that. I'm really interested in the independent publishing as a spontaneous act, and willing to left a mark as an artist. Publishing on his own is always admirable. It is so cool when you go to an exhibition and you can bring home the catalogue. I have a nice collection at my place.
When I was talking about "exchange and collaboration among artists" I was referring also to this: which better context than a publication to compare oneself to the work of other artists and curators? The fanzines have been published in high resolution, online, and so they can be printed by anyone on the paper they prefer. It is a democratic act of free press.
KELLY BAR Bruno Zhu "Best Wishes", 2016
What were the main challenges you encountered with PANE project so far?
I don't think in art there necessarily have to be challenges, in order to face new projects. The artist can perfectly lead his own research with calm and sense of reality.
Anyway, to answer your question, maybe some problem arises when an unusual location is chosen (a butchery, or a Chinese coffe shop) to organize an event/exhibition and install the new works, during the opening hours.
When you go beyond the first reticences, all the site managers are surprised and happy to see how much people is participating.
Normally we have an huge number of people at our openings. This is very satisfying and gives us the measure of the amount of work we had done and of the strong collaboration to set up the exhibition.
BUBBLE TEA, Lucia Leuci "Birth", 2016
What are you working on at the moment?
In this moment I'm working at a project linked to video tutorials. Organizing an online project is not that different from setting up a publication. A tutorial is a tool, beyond its objective of explaining something, it talks about aesthetics in the most complete sense I know.
And could you tell us about how is the future programming going to be like?
I want to organize a big collective show in an hair saloon. It is managed by a crew of beautiful Nigerian girls, very nice, even though at the moment we are facing some small technical issues, but that's normal. I am certain that the project will be realized. Pretty soon.
BUBBLE TEA, Giulio Scalisi "Let the Nymphs of the forest tell you…", 2016
I have to ask you about the word "PANE", what's its meaning and how would you relate it to your exhibitions?
PANE is the Italian translation of 'bread'. The bread, in almost every culture, is the basic food, the most essential of our daily life. I thought it was the perfect blessing for the project.
BUBBLE TEA, Paul Barsch "The wooden clogs ended up in smoke", 2016
MIRANDA Monia Ben Hamouda, "I'm Just Trying to Love You (Racoon)", 2017
KONSTANET
What originally prompted you to start Konstanet?
The initial idea had a lot to do with wanting to create a space that would allow young artists to experiment with physical space, while also allowing for a more layered online presentation. And, obviously, we were also inspired by many artists we really wanted to work with.
How does the scaled (1:5) condition of the space influence the artists and their installations?
The way Konstanet was set up until recently – we had an online space at konstanet.com and a physical space, a scaled white cube in our studio – allowed to perhaps level the playing field for young artists to an extent. Documentation plays such a huge part in circulating art and often the photos and the actual exhibition look quite different, so it's definitely a game of illusions. So we thought why not amplify this effect and rig the game a bit. The scaled space allowed us and our artists to create images that don't really look much different than those of big institutional shows but could also be really confusing for people to look at – is this a life size exhibition? how much post-production is involved? is it a 3D model? is at least some of it real? how much of it is real? But as for the process of installing and documenting the exhibitions – of course there were limitations too, the scaled space was sometimes quite tricky to work with, it took a while to figure out what works and what doesn't.
Maximilian Schmoetzer A Rare Bird in Estonia, 2016
Michele Gabriele They are standing there, under the weather, totally waterproof or completely wet, 2015
Which criteria do you follow in order to select the artists you work with?
There's really no set criteria. When we had the two-space setup, we usually thought how and to what extent they could make use of both of the spaces, although it was never a requirement that they had to simultaneously produce online and offline works, that is a lot to ask from one person anyway, people's skill sets are different. So it's more an intuitive process – we work with people whose work we're curious about.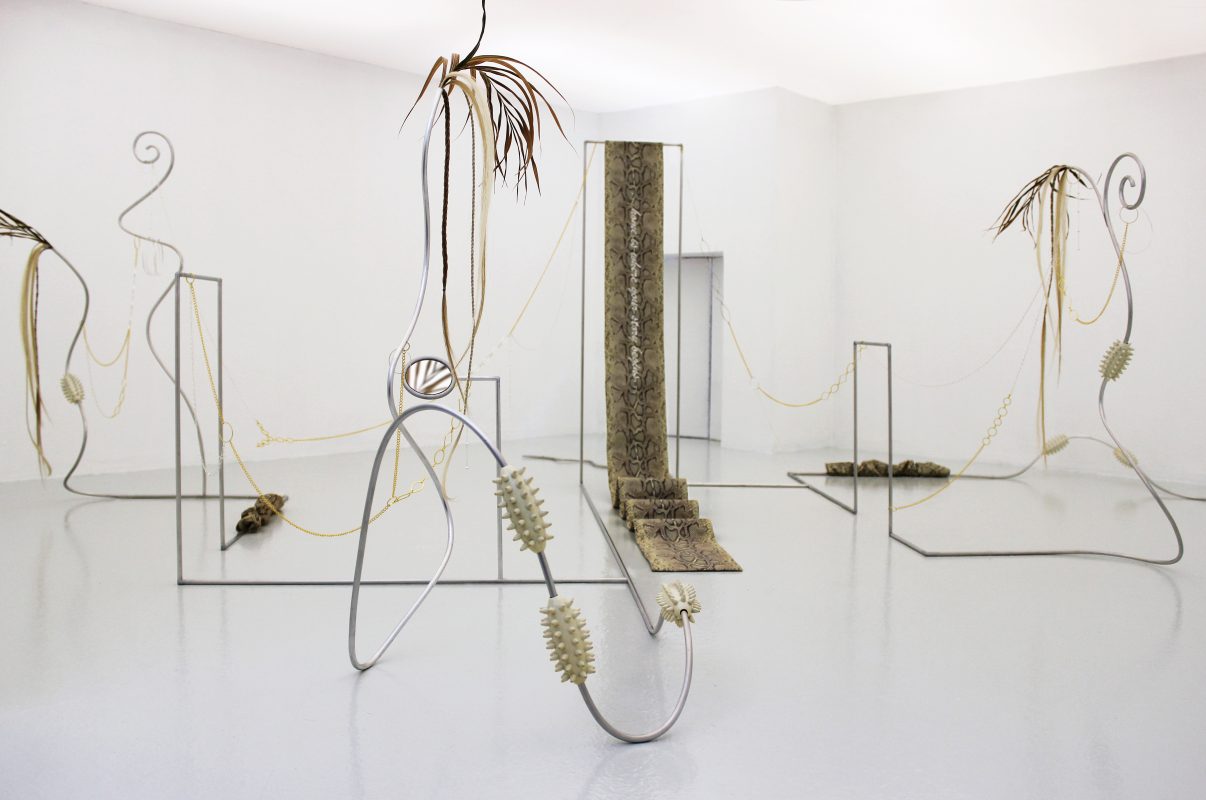 Daria Melnikova, EX-UVIA, 2016
What obstacles do you usually encounter in the setting up of each exhibition?
As we mentioned previously, the scaled space does have its limitations – but in general it's not that different from the obstacles that appear when setting up exhibitions anywhere else.
It is imperative to not associate Konstanet with issues about the relationship between the digital and the material. How do you relate these different realms into a final outcome?
With each project we tried to find a solution that would suit the particular artist and their work best – we were always open to people using our spaces how they felt would benefit their work the most. Ideally we would have online elements alongside the physical installation or vice versa, but, for example, if the artist really works only with sculpture it wouldn't make sense to start making up online content just for the sake of it – the material and immaterial should come together organically.
Ella Goerner Sustainability & Opportunities, 2014
Rene Mäe, Norman Orro Xenotica, 2013
How do you envision the future of art documentation?
Strictly speaking documentation will probably keep its significance as it has now and has also been historically. Maybe it would be even more interesting to think about the situations when documentation becomes a work of art its own or even perhaps even an interactive game – could it still be part of the artwork or become more of an appendix or introduction to it.
What are your next aspirations for Konstanet?
A few months ago we moved out of our studio and demolished our physical scaled space in the process, so currently Konstanet is an online project space. We do have a few offline appearances coming up this year, but for now we've taken a step back to contemplate what was and what could be.
Nuno Patrício Body Extended, Self-Construal, 2015
Katherine Botten places for things to grow and die., 2015
Interviews conducted by O Fluxo with
Lucia Leuci, PANE Project
http://www.paneproject.com/

& Keiu Krikmann and Epp Õlekõrs, Konstanet
http://konstanet.com/

OFluxo © 2017